Top 10 Digital Marketing Tips for Small Businesses
Be it a small business or a local business, digital marketing is an inevitable tool in the growth of a business. Small businesses that avoid digital marketing will be left behind in the market competition. Therefore, this aspect has to be given prior importance. Here are the top 10 digital marketing tips suited for small businesses.
Communicate with your customers
Building a perfect marketing strategy without communicating with your customers can be a blunder. Take some time to communicate with your current and potential customers. This will give you a clear idea of what your customers need.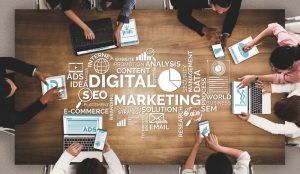 If you want to offer some extra value to the market, you have to study your competitors well. Find what you can offer to beat your competitors. Look for how your competitors are trying to position themselves in their ads.
Users expect the best experience from a business website. The website has to load easily so that it is easy to use. If you are on a budget, try to make the basics of your website clear. If your page loads faster, more customers will stick to it.
The reputation of your business is very important for a customer searching for a product/service. Google My Business allows you to have control over the way people perceive your small business. Customer reviews are also important for a customer to improve your reputation.
Include informative blogs
You have to find an effective content strategy for better results in a highly competitive market. Adding blog content to your website will help you to get found on Google search rankings. It will also offer you a platform to share something new.
Visual content must be appealing
Visual content plays a very important role in your digital marketing strategy. Video content has had a profound impact recently. The popularity of YouTube is an example of how video content attracts an audience. Therefore, include visually appealing content.
Improving your local SEO can bring more traffic to your website, increasing brand awareness and leads for your business. It will help you to stay on the front page of Google when a user searches for local businesses.
Email marketing is a fundamental digital marketing strategy for your business. Create an email list and reach out to your target audience through emails. Make sure to use a reliable provider and make your emails effective.
Use social media platforms
Social media marketing is an unavoidable factor in digital marketing currently. Most social media platforms are completely free, allowing businesses to easily connect with their target audience.
Collaborate with influencers
Be the business big or small, influencer marketing works. However, you must have clear goals while collaborating as it will help you to find the ideal people to bring the best results. You can try different influencer marketing campaigns like discounts, giveaways, collaborations, etc.